The launch of the second Student Fikra family Team Conference entitled "Think - Change - Develop"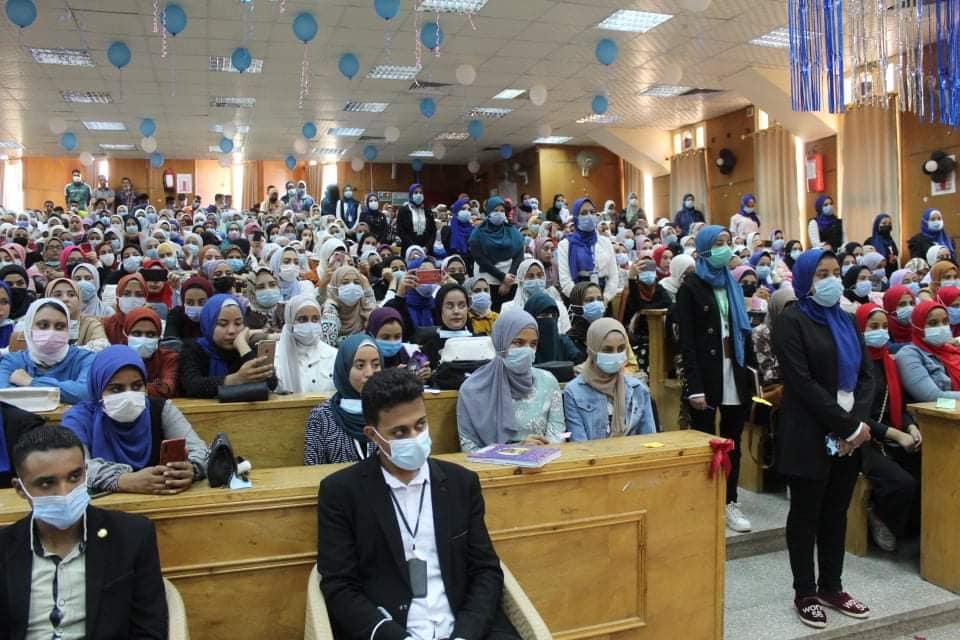 Under the patronage of Prof. Ashraf Abdel Basset - President of Mansoura University and Prof. Mohamed Attia Al-Bayoumi - Vice President of Mansoura University for Education and Student Affairs and supervision by Prof. Amina El-Nemr - Dean of the Faculty of Nursing - Mansoura University, Prof. Rabab El-Sayed - The Vice Dean for Education and Student Affairs and Dr. Wedad Saber -the student activities coordinator at the Faculty and the leader of the Fikra family. The conference organized by Mrs. Marwa Mohamed Ibrahim- Director of Student Welfare and the Student Welfare Team at the College, Ms. Manal Hassan, Mr. Wael Al-Saeed, and Mr. Wagdy Dowidar, and Professor / Ibrahim Abdel Hamid.
The second Fikra Family Conference, entitled "Think - Change - Develop", was launched on Wednesday, October 13, 2021 in the hall (A) at the Faculty. The conference was honored with the presence of Prof. Wafaa Fathy - Vice Dean for Community Service and Environmental Development, Prof. Abeer Zakaria - Vice Dean for Graduate Studies and Research, faculty members, and Dr. Ahmed Anwar Al-Adl- General Supervisor of Expatriates at the university, Mr. Abdul-Basir Abdo, Secretary of the faculty, Mrs. Reda Ismail, Director of Scientific and Technological Activity at the University, and Mr. Ahmed Abdul Wahed- Director of Student Affairs at the Faculty.
Where the conference began with the national anthem of the Arab Republic of Egypt, and the recitation of the Holy Qur'an by the student Muhammad Mahmoud. A session on Job discovery roadmap was presented by Dr. Osama Abu Al-Nasr Madi, Career Development Center at the university, and Dr. Ahmed Hashem, professional development specialist at the center. An introductory video of the administrative structure of the Fikra family was presented, and a symposium entitled Choose Your Courses was presented to the student / Ahmed Reda, titled Academic life and the labor market for graduate / Muhammad Ashraf Diab. A scientific competition was held and prizes were distributed to the winning students.
It is worth mentioning that, the second conference of the idea family left an effective impact on all students and spread the spirit of hope, work and activity towards participating in student activities.
The conference concluded with entertaining segments, singing by student / Muhammad Al-Lawli and student / Mahmoud Tarek, student representation / Fares Wael, Beatboxing by student / Ibrahim Al-Zoghbi, poetry by student / Mina Jalal and student / Hala Khaled, and chanting by student / Hoda Allah Abdel Aziz.