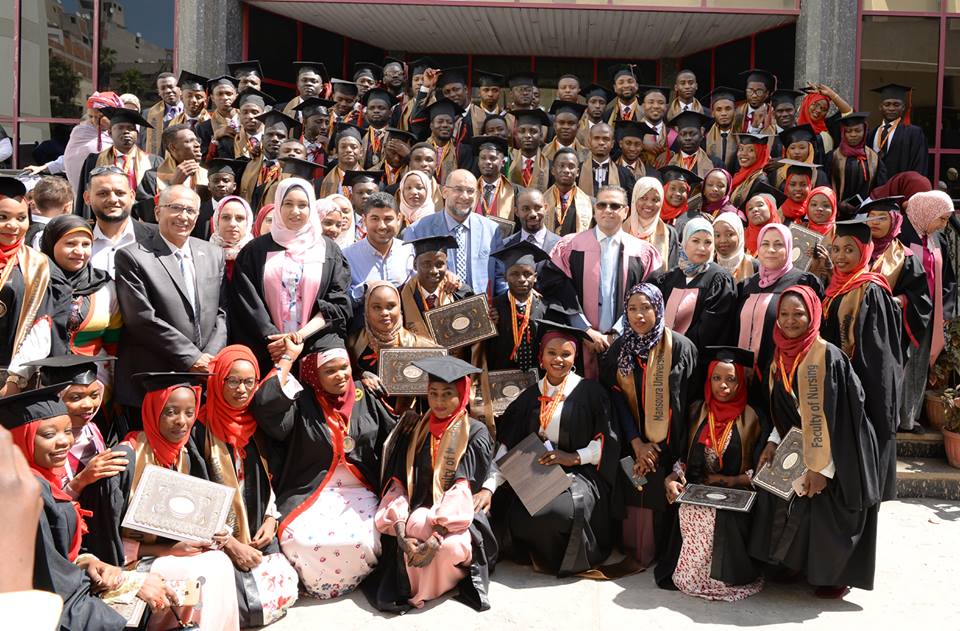 The Faculty of Nursing, Mansoura University, celebrated the graduation of the third batch of Nigerian students for the academic year 2017/2018 in the hall of Prof. Dr. El Mahdy El Basawy - Children's Hospital .
under the patronage of Prof. Dr. Mohamed Hassan El-Kenawy, (President of Mansoura University), Prof.Dr. Ashraf Abdel Basset, (Vice President for Education and Students Affairs). ,
Prof. Dr. Amina Al-Nemer, (Dean of the Faculty of Nursing), and prof.Dr. Wafaa Gameel, (Vice Dean for Education and Student Affairs) And supervision by Dr. / Heba Abubakr Mohammed (coordinator of International students)
We were honored by the presence of the Prof. Dr. Hossam Eldeen Mostafa ( supervisor of international office) and pro.Dr Ahmed ElRefay Director of pediatric hospital
The faculty was honored with the presence of a senior delegation from the Nigerian Embassy
Mr. Makwe Samuel Victor (Head of Chancery)
Mr. Mohammed sani Bashir (Education / Medical Assistant)
Mr. Shehu Tijjani Emran (Translator/Ag. Education& Medical)
Mrs. Safiya Musa (Admin Attache III)
Prof .Wafa Jameel expressed her happiness in congratulating these students for their graduation and standing in front of a transitional phase of their lives. She also called on the graduates to be optimistic and to believe in hope in life .
Prof. Amina Al-Nimer confirmed the graduates' eligibility for success as they adapted to the education programs at the Faculty of Nursing, noting the need to be proud of graduating from Mansoura University, stressing that graduation is the beginning of their professional life with all its fluctuations.
Mr. Makawai Victor expressed his pride in the Nigerian students who graduated from the Faculty of Nursing - Mansoura University and raised the name of Nigeria high and asked them to make more efforts to succeed in their working life, praising the great effort and care that included Mansoura University represented by the Faculty of Nursing all Nigerian students.
Dr. Mohamed El-Qenawy stressed that the graduation of these students is a result of the care and attention they have received in Egypt in recent years. He called on the graduates to devote their time and effort to serve the community through their practical lives.