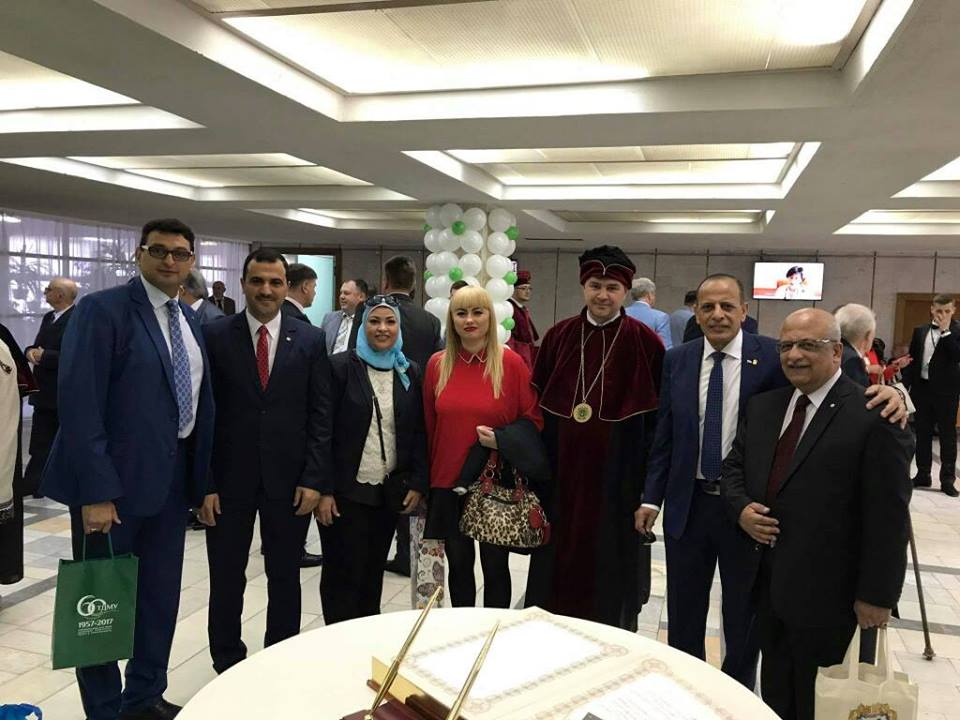 A delegation from Mansoura University headed by Prof. Dr. Zaki Zidane, "Vice President for Environmental Community Services", Prof. Dr. Amina El-Nemer, "Dean of Faculty of Nursing" and Prof. Dr. Hussein Al-Sabbagh Professor of Medical Chemistry, Faculty of Pharmacy, Prof. Dr. Mohamed Salah, a professor at the Faculty of Science, visited the Hrubatshevsky Ternopil State Medical University in Ukraine to discuss ways of cooperation and the implementation of joint scientific and academic programs.
The delegation was received by Prof. Mikheilu Korda, "President of Ternopil University", in the presence of the Vice Presidents, the Dean of the Faculty of Nursing, the Dean of the Faculty of Pharmcy, the Vice Dean of the Faculty of Nursing, the Vice Dean of the Faculty of Pharmacy and the Director of International Relations at Ternopil University.
The two sides viewed how to implement joint cooperation programs, both in the fields of nursing and pharmacy, at the level of academic programs for undergraduate and post-graduate studies as well as joint research projects and supervision of scientific thesises.
Prof. Dr. Mohamed Salah pointed out that that this cooperation comes within the framework of Mansoura University's interest in the internationalization of higher education according to the vision of the university administration headed Prof. Dr. Mohamed El-Kenawy, President of the Mansoura University, where this scientific cooperation between the two sides and the exchange of experiences and visits, especially in the various medical fields.
Moreover, Prof. Dr. Hussein Al-Sabbagh said that the scientific research cooperation had been started from long time in the field of pharmacy, so cooperation can be developed to include new degrees to award internationally recognized and accredited academic degrees.
In addition, Prof. Dr. Amina El-Nemer said that cooperation with the University of Ternopil in the field of nursing opens new opportunities for Mansoura University students to be enroll in distinguished programs in various specialties in nursing field and a modern study plan for Keeping pace with scientific development.
Finally, Prof. Dr. Zaki Zidan stressed that it is necessary to raise the value of Mansoura University through international cooperation and the development of international relations with universities and academic institutions, which is in the end benefit for Egypt through the development of graduates and the rehabilitation of students with modern and international experience, which earns the ability to compete in the labor market and excellence In production.